Hank Haeseker Honors Late Wife Nancy by Creating KD Scholarship in Her Name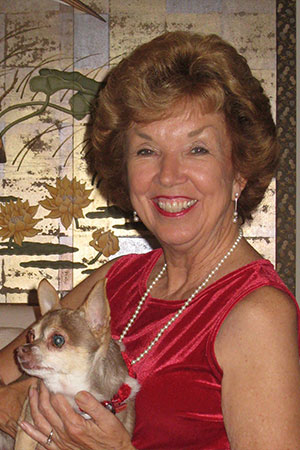 When Hank Haeseker looks back on his 55-year marriage to his wife Nancy, he "can still see her in my mind's eye, gracefully seated in the living room in her yellow and white sundress." The two first met at a student government committee meeting at the Kappa Delta house.
"Her ever-present smile and sincere kindness to all were her trademarks," Hank said. "Nancy inspired many KDs with her enthusiasm and leadership qualities. I was always so proud of her."
After a three-year battle with cancer, Nancy passed away in 2018. Nancy and Hank had created a donor-advised fund many years before to support charities close to their hearts. For Nancy this included the Kappa Delta Foundation, though she did not provide specific guidance for how she wanted to support the foundation after she passed.
"I gave it a good deal of thought, reflecting on Nancy's life of leadership and her devotion to Kappa Delta," Hank said. He created the Nancy Wilson Haeseker Leadership Scholarship through the Kappa Delta Foundation to support outstanding leaders in the Beta Pi chapter.
Emmy Iannone was the first recipient of the scholarship. Not only has Emmy served her chapter as vice president-operations and president, but she is also a University of Florida student senator.
"This scholarship has offered immeasurable relief," Emmy said. "In May of 2022, I will graduate and pursue a career as an elementary school teacher. In such an unprecedented time when everything is so uncertain, it is good to know that there are still people in your corner."
© Pentera, Inc. Planned giving content. All rights reserved.
Disclaimer