Kate Wasem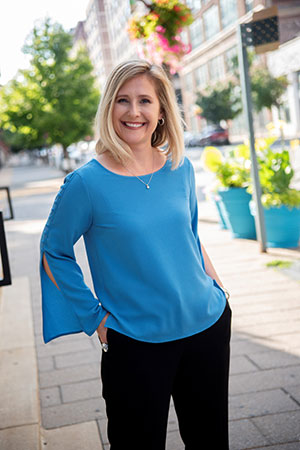 Background:
Although Kate describes herself as not very outgoing, her engagement in activities and organizations started at a very young age. Once enrolled at Missouri University of Science and Technology to study metallurgical engineering, Kate soon continued her extracurricular engagement when she joined KD. "I was so excited to meet my new sisters on Bid Day," she says. From that day on, Kate took on many leadership roles from Panhellenic delegate to chapter president and Panhellenic president.
"I took all my experiences in leadership and used them during interviews for my internships and full-time employment," she says. "From communication, excelling as a team, navigating differences and difficult situations, sales, and recruitment, I had solid examples for almost every question." Today Kate is commercial manager for electrical steel at Big River Steel, where her team manages the development of products and the strategies to take them to market.
In 2008, when Kate returned to the St. Louis area where she grew up, she joined the Epsilon Alpha House Corporation board and was able to see firsthand the foundation's impact at the local level. "At that time, Epsilon Alpha was in the middle of a capital campaign to build a new chapter house," she says. "The house corporation had set up an educational and technology fund with the Kappa Delta Foundation. I became a Kappa Delta Foundation donor to support the project." Kate says she has continued her support of the foundation to give back to the organization she holds so dear and that has made such a difference in her life.
"Our founders entrusted us with this organization," she says. "I am sure they couldn't begin to imagine what Kappa Delta has grown into today. It is our responsibility to make sure Kappa Delta is still here for decades for many more after us to experience. There are so many ways to support the foundation, and even the smallest donation can make a difference."
© Pentera, Inc. Planned giving content. All rights reserved.
Disclaimer