Sandy Etz Wysocki
Background:
Epsilon Iota-Missouri
Kappa Delta Foundation major donor
Dorothea Cavin Society member
Milwaukee Alumnae Chapter president
Theta Lambda-Marquette chapter advisory board member
KiDs Grant committee member 2017-2018
Nominating Committee member 2017-2019
Undergraduate Scholarship committee member 2016-2017
Order of the Pearl 2015
Illinois/Wisconsin State Outstanding Alumna
Milwaukee Business Journal Woman of Influence 2018
Don Richards Leadership Award 2015
American Eagle Award for Excellence 2009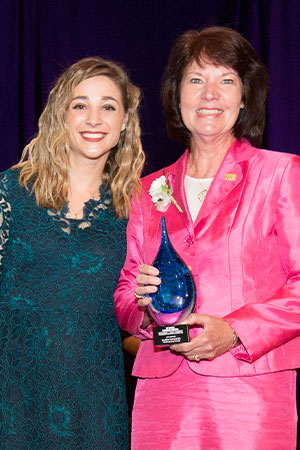 Listen to Sandy speak about her involvement with Kappa Delta. She loves everything about KD. She loves the Ritual and how Kappa Delta's values have endured over time. She loves the leadership opportunities and involvement with the local community that is stressed by Kappa Delta.
"It's hard to grasp what you are becoming a part of when you first join Kappa Delta. Value, tradition, history, leadership. I think about where I am now, the lessons I have learned, and what I have gained. It's hard to put it into words," she says.
Sandy was a charter member of Epsilon Iota-Missouri. "KD was new on campus. It felt so wonderful to be creating something. It is so gratifying to me to see what a strong chapter they are now."
Kappa Delta was central to her life as a collegian. And while she stayed connected to KD following graduation, her involvement as an alumna increased once her children, Mike (29), Matt (27), and Lauren (25) were grown. She first served as president of the Milwaukee Alumnae Chapter in 2010 and was a delegate at the 2013 Biennial National Convention. Sandy loves convention and has attended each year since 2013.
"I never realized how big Kappa Delta really is until I attended a national event!"
Sandy has served national Kappa Delta as a member of the foundation's KiDs Grant committee and the sorority's Nominating Committee. She currently serves Theta Lambda-Marquette as a member of the chapter advisory board. The chapter was established in spring 2015, and Sandy was present when KD headquarters staff members made their presentation to university administrators. "As I watched and listened, I realized that the values which make us Kappa Deltas has not changed. It is still very meaningful."
Sandy's dedication to Kappa Delta, and to her community, has not gone unnoticed by her KD sisters. In 2014 she was named Outstanding Alumna at the Illinois/Wisconsin State Day celebration. The following year, at National Convention, she received the Order of the Pearl for outstanding contributions at the national, state, or local level in areas other than service to Kappa Delta.
"Receiving the Order of Pearl was very special. I was totally shocked and surprised. It was very touching. I don't live for awards. It's such an honor," Sandy says.
Sandy made her first gift to the Kappa Delta Foundation in 1998. "I was in a position with a little more money and had enough to share. Now that I think about it, I am surprised it took me that long to give!" Her gracious generosity is recognized by the foundation with membership in the prestigious White Rose and Dorothea Cavin giving societies.
Sandy is well-versed in the importance of charitable giving; her career path has included a stint as chief development officer for the United Performing Arts Fund in Milwaukee. "When I look at what I want to support, Kappa Delta made such an impact on my life—particularly in college."
Sandy donates regularly to the KD Foundation because KD "has blessed me so much. Whenever I have the opportunity, I give. I want to make sure [KD] can be strong, provide scholarships, honor and recognize the collegians, and continue to grow as a sorority. So much is fleeting these days, but the values of Kappa Delta remain the same."
© Pentera, Inc. Planned giving content. All rights reserved.
Disclaimer