Kathleen Duffy Ybarra
Background:
Beta Psi-Arizona State
Kappa Delta Foundation donor and Dorothea Cavin Society member
Beta Psi-Arizona State Chapter Advisory Board Panhellenic advisor
Arizona State National Alumni Council chairman
Founder, president, and CEO of Duffy Group Inc., a global research and recruitment firm
2014 Al O'Connor Lifetime Achievement Award recipient for her leadership and commitment to giving back to her profession
Phoenix, Arizona, resident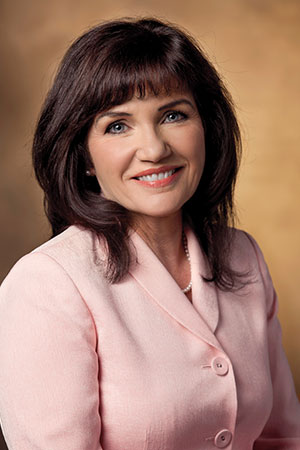 Initially praying I would not be accepted, attending Arizona State University changed my life. I joined Kappa Delta and immediately gained a support system and community. I also received a great education and gained leadership experience that propelled me into my career. My involvement in Kappa Delta and other campus organizations ignited my passion for recruiting, and I was encouraged to pursue a degree in communications to launch me into a career in training and development.
In 1991 I started my own global recruitment and research company and was one of the first to innovate and lead an entirely remote workforce. It was important for me to provide an opportunity for employees to care for their families and continue to work in their professions.
I attribute my success in business to the leadership training and social and professional network I built as a Kappa Delta. As someone who has benefited greatly from my sorority experience, I am committed to connecting with sorority members, cultivating leaders, and promoting the benefits of Greek life.
Kappa Delta has given me so much; it goes without a second thought to give back to the foundation. Running a company, raising my family, and being involved in outside activities does not allow a lot of extra time to dedicate to KD, so I am happy to be able to support the foundation financially. Kappa Delta membership does not end upon graduation. It is a lifetime of support, camaraderie, and friendship.
© Pentera, Inc. Planned giving content. All rights reserved.
Disclaimer